Little Switzerland Day Trip Things to Do
Little Switzerland Day Trip Things to Do
Little Switzerland is a hidden treasure along the Blue Ridge Parkway. Located 42 miles from Boone and Blowing Rock via the Blue Ridge Parkway, the drive to Little Switzerland is an adventure within itself! Here is our list of top things to do on a Little Switzerland Day Trip: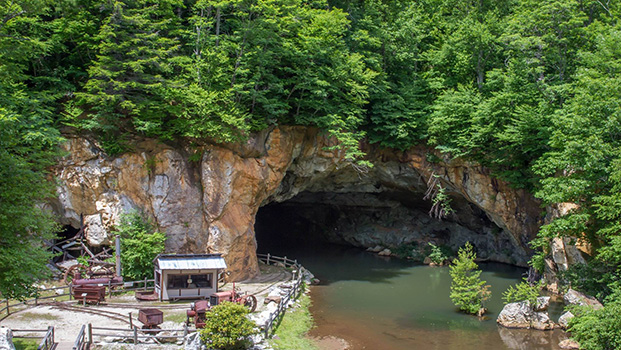 Emerald Village
331 McKinney Mine Rd, Little Switzerland
Your first stop is Emerald Village where you should plan on spending two to three hours because there is so much to do! The village is home of the original Bon Ami Mine (just like the cleaning powder).
Explore the mine and view the old equipment, look inside the old mine store, view a model railroad, black light minerals and try your hand at gold panning or gemstone.
Open daily April-October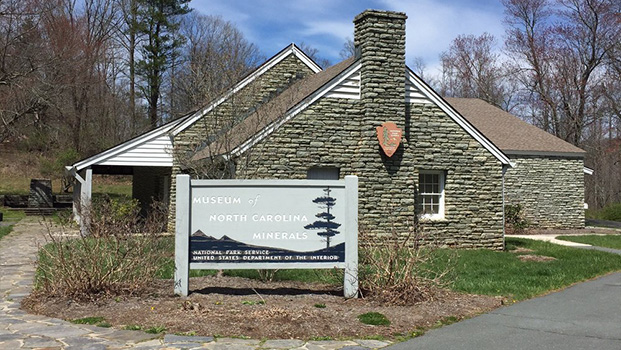 Museum of North Carolina Minerals
Blue Ridge Parkway Milepost 331
Before you hop back on the parkway to head to your next destination, stop at the National Park Service's Museum of North Carolina Minerals to learn about all the minerals you can find in the Blue Ridge Mountains. The museum features interactive exhibits (that kids will love!) on the creation of the Blue Ridge Mountains, history on mining in the region and mineral specimens to view. The museum also has an exhibit on the Overmountain Men who crossed the Blue Ridge here on their way to the battle at Kings Mountain, South Carolina.
The museum is open daily, year round, from 9-5.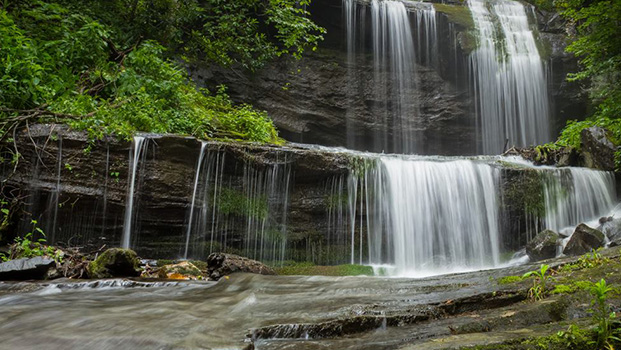 Grassy Creek Falls
Blue Ridge Parkway Milepost 334
After leaving the museum, turn south on the Blue Ridge Parkway and turn onto Grassy Creek Falls Road. Park in the pull-off and take the one-mile trail to this beautiful waterfall.
The waterfall in on private property but is open to the public.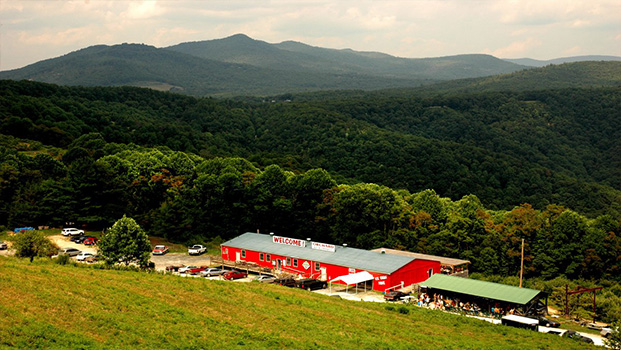 Historic Orchard at Altapass
Blue Ridge Parkway Milepost 328.3
Just six miles from Little Switzerland, the Orchard offers plenty to do. Planted by the Clinchfield Railroad in 1908, the orchard features nine varieties of apples that are available for picking August-October. You can also listen to live music daily, hit the dancefloor with some flat-footing and eat a piece of hot apple pie with ice cream.
If you enjoyed the historic information on the Overmountain Victory Trail at the Museum of Minerals, you will find more info on the trail here.
Open Mid-May-October. Apple Core Grill open Fri-Sun.