Blue Ridge Parkway MP 216 - 248
What is considered the NC High Country begins at Milepost (MP) 216 of the Blue Ridge Parkway. This is also where construction began on the Blue Ridge Parkway in 1935 at Cumberland Knob! Here are the main points of interest on the Blue Ridge Parkway MP 216-248: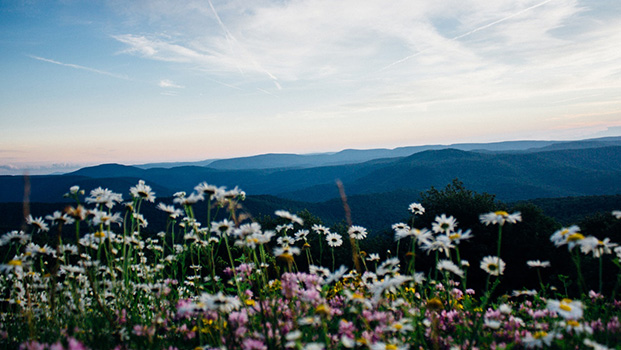 Cumberland Knob
MP 217
This 1,000 acres park is the northernmost stop in North Carolina and also where the Blue Ridge Parkway construction began!
Cumberland Knob Trail
Have lunch at the picnic area along the trail. After lunch, take the easy (and paved!) 15 minute loop trail to Cumberland Knob.
Gully Creek Trail
This more strenuous 2 hour loop trail meanders along a stream into Gully Creek Gorge.
Fox Hunters Paradise Trail
MP 218.6
The is a great overlook with a nice rock patio under a large shade tree to keep you cool when taking in the view on a warm summer day! Take a 10 minute walk to the Paradise, where old-time hunters listened for their hounds in the valley below.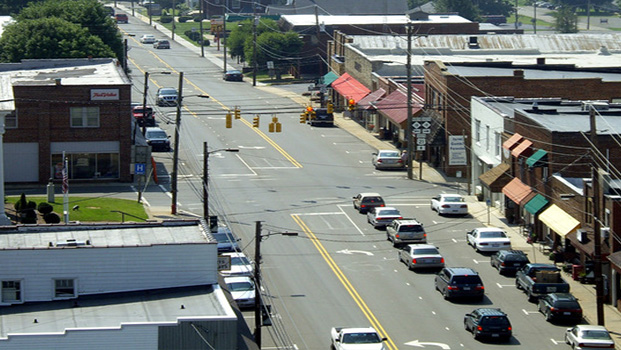 Town of Sparta
MP 229
Take Hwy 21N 7 miles to the downtown area. The town of Sparta is a great place to stop for supplies. There is a Food Lion grocery store, Walgreens Drugstore and a few gas stations in town. While you won't find a fast food chain restaurant, you will find a few locally-owned restaurants and even a brewery!
The area is also known for it's pottery. You will find a few pottery studios on Main Street.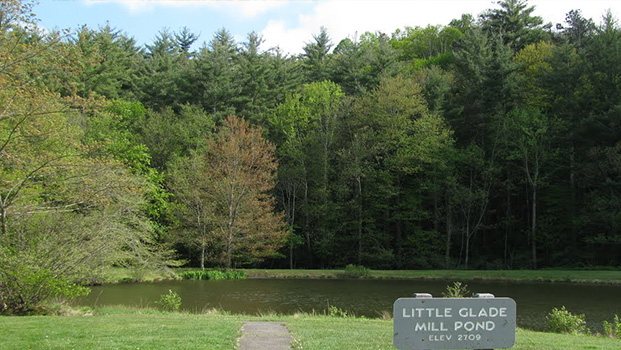 Little Glade Pond
MP 230
This little park is nice and flat. It is a great place to stop for a picnic if the Cumberland Knob picnic area is too busy for your liking! There is a nice little .4 mile loop around the pond that is great for stretching your legs.
In the summer, you can hear the sounds of the bullfrogs and crickets and spend some time identifying the many wildflowers that grow around the lake.
In the early 1900's, there was a turbine-mill powered by the Little Glade Creek that ran from the pond. Nowadays, the pond is great for lazy day fishing as well.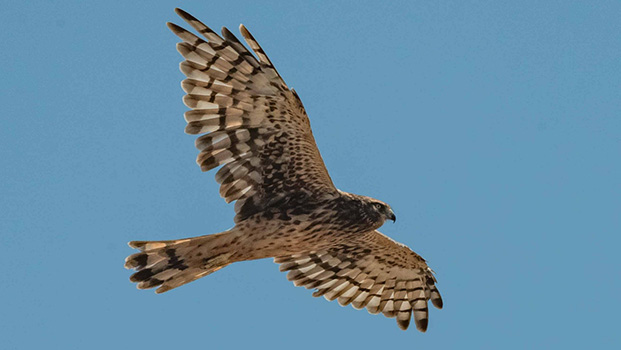 Mahogany Rock
MP 235
Mahogany Rock Mountain is a prime place to view hawks sailing the updraft and thermals along the Blue Ridge on their southern migration. The best time to view the migration is in late August and early September. Most activity starts around 10am and continue through 4:30 or 5:00 pm.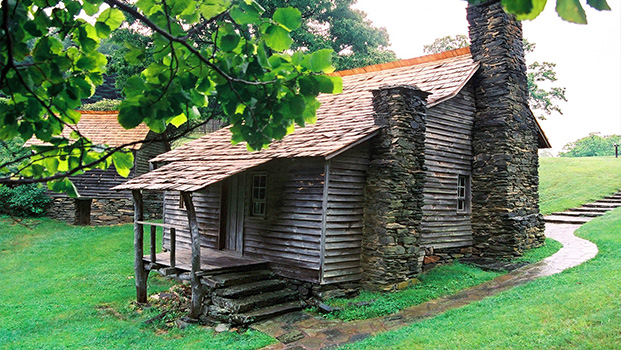 Doughton Park
MP 239-248
Brinegar Cabin
Visit the restored Brinegar Cabin and, during the summer months, watch weaving demonstrations and learn about the mountain way of life from Blue Ridge Parkway volunteers. You can also view a traditional mountain garden and spring house.
Doughton Park Campground
One of the largest campgrounds on the Blue Ridge Parkway with both tent and rv pull-ins available. Bath houses are on site. During the summer months, ranger programs take place in the common area.
Bluffs Picnic Area
This is a large picnic area with shaded and sunny areas to enjoy your meal. Restrooms are on site. The Fodder Stack trail that begins in the picnic area, is a great trail for families that leads to an overlook.
Trout fishing (you need a state fishing license) and primitive back-country camping sites are also available in Doughton Park. Reserve with park officials. Call parkway ranger's office at 336-372-8568)