High Country Jazz Festival 2023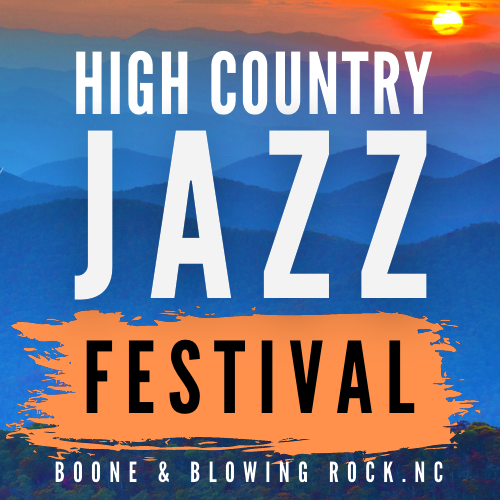 Event Date
June 8, 2023 - June 11, 2023 12:00 am
Daily
Location
Various Locations
High Country Jazz Festival 2023, Boone and Blowing Rock NC Will have a wide variety of jazz inspired acts on various locations throughout the High Country!
Jazz Festival Appetizer, Thursday, June 8, 2023
Jazz Dinner at Casa Rustica: June 8, 6 pm
Casa Rustica fuses Old-World Italian cuisine with the fresh flavors of the High Country, much like jazz fuses elements from many different musical styles to create its own space. Todd Wright and Andy Page perform live jazz every Thursday night at the restaurant. We HIGHLY recommend reservations. For reservations call 828-262-5128.
Screening of La La Land:June 8, 7 p.m. at Appalachian Theatre
Emma Stone and Ryan Gosling star as Mia and Sebastian, an actress and a jazz musician pursuing their Hollywood dreams and finding each other in a vibrant celebration of hope, dreams, and love. Tickets: $6 each (taxes and fees included).
Jazz Festival Day 1: Friday, June 9, 2023
Jazz Lecture, June 9, 11 am, Blowing Rock Art and History Museum
The Jazz Swing Feel: From Count Basie to Emmet Cohen This hour session led by Professor Todd Wright, the coordinator of Jazz Studies at Appalachian State University, will musically trace what it means to swing in jazz. Tickets/Reservations are required.
Will Boyd Quintet, June 9, 5:30 pm, Concerts on the Lawn at the Jones House Cultural Center
Hailing from Orangeburg, S.C. by way of Queens, N.Y., Will Boyd now lives in Knoxville, TN, where he received his Master of Jazz Studies degree. A multi-reed instrumentalist, composer, and educator, Will has played with artists across many genres, including Leslie Odom, Jr., Doc Severinson, the Four Tops, and the Harry James Big Band. Will co-leads the group with his wife, Kelle Jolly, who is a jazz radio host and founder of Knoxville Women in Jazz Jam Festival.
This performance is FREE. Please bring your own chairs.
The Legendary Count Basi
View More Info
Go Back to Main Events Page